Safe-Latch Classroom Lockdown Solutions
Safe-Latch is a fast, safe and efficient classroom lockdown solution. At just under $30 per door, it's extremely affordable, can be installed in minutes with only a standard drill, and is simple for teachers and students to use.
Secures the door from inside the classroom in seconds
No user training required
One single motion engages the door lock latch
Allows external access with a normal door key
Compliant with Fire and ADA codes for use in classrooms
Designed and manufactured in the U.S.A., Safe-Latch is built to meet the rigors and abuse of everyday use in schools.
Stainless steel construction
Works with virtually all existing door hardware
Riveted magnets to ensure proper positioning
Secured lanyard at door for instant deployment 
Under $30 per door!
How it works
Simply place Safe-Latch between the door and frame – strong magnets and a lanyard hold the Safe-Latch securely in position – and close and lock the door. The product is designed to work with your existing classroom door hardware.
When in place, the Safe-Latch covers the strike plate, preventing the latch from entering the strike plate and allowing the door to be opened and closed freely by students and teachers entering and exiting the room. Classroom doors can be kept in this locked-but-accessible condition at all times. (As shown in image A. Safe-Latch Not Secured)
In a lockdown scenario, a student or teacher can quickly remove the Safe-Latch, allowing the latch to engage the strike plate and secure the already-locked door. Safe-Latch always allows for one motion egress, and the door can be unlocked by educators or emergency professionals by using the key, complying with fire codes.  (As shown in image B. Safe-Latch Secured)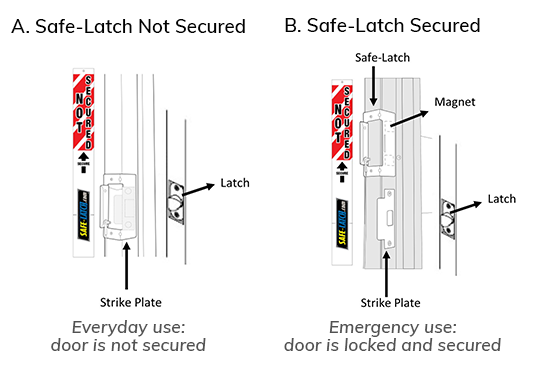 Available in three formats
Contact us today to get a quote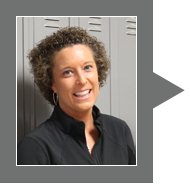 "Safe-Latch is a daily tool so you know right where it is and can be very comfortable using it. It's as easy as learning to use a light switch."
– Laura Lloyd, Associate Principal and Co-Director of Safety, Kettle Moraine School District